Rottweiler Breed Standards
You MUST complete a Puppy Request Application before being considered for a puppy. Documents to view or use require Adobe Acrobat Reader:

Tails: In natural condition, level in extension of the upper line; at ease may be hanging.

Tail: Set on too high or too low

Tails: Kink tail, Ring tail with strong lateral deviation
Correct in excited state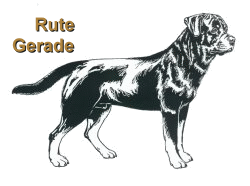 Correct carriage
Tail in relaxed state
Eliminating fault
Rottweiler Clubs Worldwide

USRC - United States Rottweiler Club

USA - United Schutzhund Clubs of America

ADRK - Allgemeiner Deutscher Rottweiler Klub e.V.

VDH - Verband für das Deutsche Hundewesen e.V.

USA - Landesgruppe - Chicago

Alliance of Independent Rottweiler Klubs

ARC - American Rottweiler Club

IFR-The International Federation of Rottweiler Friends

ARV - American Rottweiler Verein

UKC-The United Kennel Club

The Rottweiler Club of Canada

The Rottweiler Club of Great Britain

Rottweiler Club Italiano

Netherlands Rottweiler Club

French Rottweiler Club

Belgian Rottweiler Club

Danish Rottweiler Klub

Czech Republic Rottweiler Club

Österreichische Rottweiler Sporthunde-Staffel

ORK - Österreichischer Rottweiler Klub
Breeding Articles and Discussions

Study of Gait and Motion

Animal Legal and Historical Web Center

Inbreeding and Linebreeding

Genetic Selection

Predicting Litter Outcomes

Breeding Out Faults*

Iam's Articles and Research Library

Understanding the Hock*

Rottweiler Front Assembly*

The Genetic Bottlenecking of the Rottweiler*

Questions To Ask Breeders

Rottie-L Discussion Forums

Puppy Dog Naming Guide

One of the Largest Breeding Information sources on the web

Pedigree Research Center- Pawvillage

Whelping Calendar and Progression Chart

Canine Reproduction Series

Pet Education.com
Canine Health Realted Links

Orthopedic Foundation for Animals

Rottweiler Health Foundation

Rottweiler Longevity Research -Owners with Rottweilers 13 years and up, please complete the information sheet!

Canine Eye Registration Foundation

Canine Health Information Center

Institute for Genetic Disease Control

Pet Medications

Canine Health Foundation

Recipe for Satin Balls!

How to Grade your Dog Food

Pet Health 101 Website

Dealing with Bloat in Canines
Recommended Dog Supply Vendors

The Wooden Wicket

Kurt K-9 Equipment

Leather Creations

Avid Microchip ID Systems

Sandy Kinsman: SanDysign for print, web & wear

Jeffers Pet Supplies

Professional Best Quality Harneses for Pitbulls - Super strong training, pulling, tracking harnesses, heavy duty attack training muzzles, spiked and studded collars, easy in use dog pull tabs and lots of other things for your Pitbull.

Multifunctional Leashes for any Activity - Any purposes best leather, nylon or chain leashes for medium and large dog breeds are waiting for your pet in this online store!

Durable Training Dog Harnesses - Assortment of professional quality harnesses for different goals and tastes:protection training harnesses, off leash training harnesses, pulling harnesses, obedience training harnesses etc.

Labrador Breed Regular Walking and Training Collars - Made of durable leather and water-proof nylon spiked collars, studded harnesses, agitation training muzzles and other supplies for Labrador dog breed.

Doberman Dog Breed Muzzles - If you need professional dog training equipment for your Doberman - Go Here! Durable training muzzles, walking leashes, off leash training collars etc.

PetEdge

Farmtek

Breeding Equipment and Supplies

Happy Legs for training puppies to show

Dog Scooter for health and fitness

Up-To-Date Dog Training Muzzles - Durable agitation training muzzles, studded walking collars, pulling harnesses, tracking leashes and other dog supplies for professional dog training.

High-Quality Dog Collars For American Staffordshire Terrier - Go to our website and choose best modification of walking and training collars, tracking harnesses, vet visiting muzzles and other dog stuff for your Amstaff breed.

Regular Use Strong German Shepherd Training Muzzles - Wide choice of high-quality German Shepherd training muzzles, walking harnesses, stylish spiked collars, tracking leashes, bite tugs and dog toys.

Rottweiler Metal Collars Online - Best choice of Rottweiler metal collars collars, walking muzzles, obedience training harnesses and other useful dog equipment for reasonable price.

Originally Designed Spiked Collars For Great Danes - Design spiked and studded dog collars, pulling harnesses, obedience training muzzles, walking leashes, and other dog stuff for your Gentle Giant.

K9 Leads E-Shop - Wide variety of Canine leather muzzles, nylon harnesses, chain collars, Toys, Bite Suits etc. for police dogs.

Dog Match Shows

Animal Planet-DOGS!

Rottys.Net

Rottweiler.Net

Dog Sport Magazine

Dog Fancy

Breeders USA

Breeders Information Center

The Rottweiler Magazine

The Rottweiler Quarterly

The Rottweiler Chronicle

The Rottweiler United

Rottweiler Review

Der Rottweiler

The Canine Chronicle

Dog World

Your Rottweiler's Life

Dog Channel Website

Complete Rottweiler

The Dog's Mind

Dog Owner's Home Veterinary Handbook

Top Working Dogs

How to Be Your Dog's Best Friend

The Winning Edge : Show Ring Secrets

Help! My Dog Has An Attitude

Pet Information Center

Book of the Rottweiler/H-1035

The New Rottweiler : Essential Reading for Owners, Breeders and Judges

Illustrated Dog watching

Play training Your Dog

The Dog Whisperer

Show Me!

Good Dogs, Bad Habits

Monster Dog Equipment

Amerbreeder.com
European Rottweiler Breeders

vom Haus Bodensee - (Austria)

von der Veste Liupoldsdorf - (Austria)

vom Rabenschloss - (Belgium)

van Het Falconsnest - (Belguim)

vom Biezemschloss - (Belgium)

vom Schloss Hexental - (Belgium)

Heidenblut - (Hungary)

von der Sommerweide - (Italy)

Lizber Rottweilers - (Italy)

Dell'Antico Guerriero - (Italy)

Alnahid's Rottweilers - (Kuwait)

of Voyager Rottweilers - (Netherlands)

van de Watergeuzen Rottweilers - (Netherlands)

Quizas Online - (Netherlands)

V D Lutenburcht - (Netherlands)

De Runderkraal - (Netherlands)

von Ivan Hause Kennel (Romania)

Ugranfir Rottweiler

Alten Festung - (Croatia)

vom Hause Radeau - (Denmark)

Kennel Jutlan's - (Denmark)

vom Cäsarenkamp - (France)

des Terres d'Amor - (France)

Schlossmaraness - (France)

Van Het Berenschild - (Germany)

vom Bärenfels - (Germany)

vom Ehndorfer Moor - (Germany)

vom Oberen Knappensee - (Germany)

von der Zirbelnuss - (Germany)

vom Hause Sommer - (Hungary)

van Rohas - (Netherlands)

Kennel v/d Lutenburcht - (Netherlands)

Chestishpride - (Netherlands)

MARSTAL Rottweilers - (Poland)

Rottweilers Prao La Salve (Spain)

www.holzhaussiedlung.de (Germany)

vom Schwaiger Rathaus - (Germany)

vom Schwaiger Wappen - (Germany)

vom Vilstaler Land - (Germany)

vom Hause Neubrand - (Germany)

von der Scherau - (Germany)

vom Bamberger-Tal - (Germany)

vom Kummelsee - (Germany)

Vom Koenigskanzel - (Germany)

von der Hundshardt - (Germany)

vom Wolfsberg - (Germany)

von der Zirbelnuss - (Germany)

vom Krummen Acker - (Germany)

ERFOLIG - (Russia)

Olburd Kennel - (Russia)

Jacraila Rottweilers - (Scotland)

Crni Lotos - (Serbia)

Earl Antonius - (Serbia)

Corrado della "VAL DI NOTO (Italy)

von Der Bleichstrasse - (Germany)

vom Hause Enzian - (Germany)

vom WolfertTurm - (Germany)

vom Wilden Westen - (Germany)

Von Bickesheim - (Germany)

vom Brombachsee - (Germany)

vom Plotzschgrund - (Germany)

vom Hause Ditscher - (Germany)

von der Zant - (Germany)

vom Herrenholz - (Germany)

von der Siegquelle - (Germany)

von der Königskanzel - (Germany)

Breogan Rottweilers - (Spain)

vom Schwarzen Riesen - (Switzerland)

Rotti's Allyans - (Ukraine)

Mayanser Working German Shepherd Dogs - (England)

Rottweiler-Kennel Du Clos Lenka - (France)
American Rottweiler Breeders

vom Lowenherzig Rottweilers - (USA)

von Evman Rottweilers - (USA)

Redwood Krest _ (USA)

von Herrschaft - (USA)

Ketel One Rottweilers - (USA)

No-Bil's Rottweilers - (USA)

Vom Vollenhaus Rottweilers - (USA)

Darkstarr Rottweilers - (USA)

Goldmoor Rottweilers - (USA)

Goldshield Rottweilers - (USA)

Schwarzstein Rottweilers - (USA)

Rottweilerchat.com - (USA)

vom Viersen Rottweilers - (USA)

Gone to the Dogs - (USA)

Rottweilers Los Dos Wotan - (Mexico)

vom Traumhaft.com-(USA)

www.vdrrottweilerbreeders.com (USA)

Chellen Rottweilers (USA)

von Ausbreitung Kennels - (USA)

Chandlerhaus Rottweilers - (USA)

Jeneck's Rottweilers - (USA)

vom Dreilandereck - (USA)

vom Legende Rottweilers - (USA)

Konigsheide Rottweilers - (USA)

Donnerberg Rottweilers - (USA)

Briarpatch Rottweilers - (USA)

vom Maegdeberg Rottweilers - (USA)

von Scosher Rottweilers - (USA)

vom Lewdahaus Rottweilers - (USA)

Holly House Rottweilers - (USA)

Powderhorn Press - (USA)

Zurlandzunge - (Brazil)

Frasertal Rottweilers - (Canada)

Braxeburg Rottweilers - (Canada)

vom Legende Rottweilers (USA)

Lonecreek Rottweilers
I wanted to share with you something that happened to me in my recent Brito litter. I have been awaiting the results from the vet of a puppy that passed the day AFTER his health tests were completed.
I returned home to find my son taking pictures of the pups and I bent over the box which is in my bedroom to get my normal welcome home love. This box is 4ft by 8 ft so at birth I can sleep with mom and pups until they get past the "critical point" The pups were 8 weeks and their new moms and dads were coming to pick them up. I looked over at my black ribbon male who didn't get up…at first I thought he was sleeping but when I got closer I realized he was down and had labored breathing. I grabbed him into my arms and screamed for my son. He said "Mom they were just fine 5 minutes before you got home"…I rushed him into the bathroom to check him over to see foamy blood coming from his nose and his tongue turning blue. I thought blockage didn't see anything, feel anything.
I RAN blindly to my car because I couldn't stop the tears. I held him in my arms the whole time driving just 5 mins to the vet I could save him. I had called and they were waiting for me.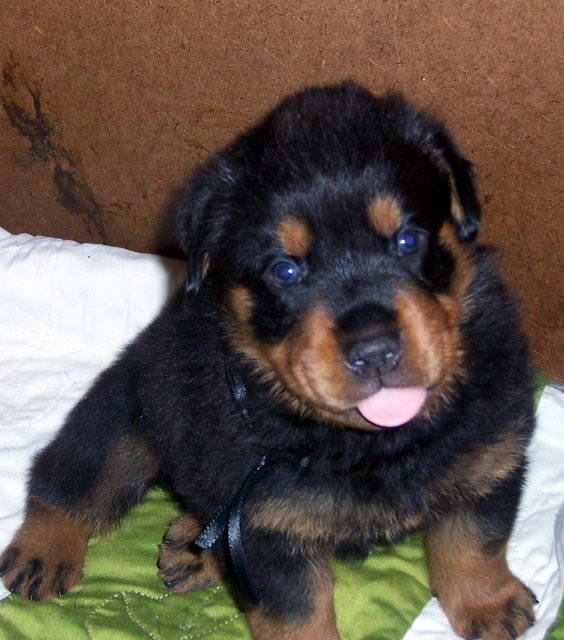 Dr. P immediately took him from me and rushed him back. He was warm still and I had hopes. She said his heart was beating and went into action to save him but he poured foamy blood from his nose and expired. My vet requested to do the autopsy and I said yes without question. I needed to know. When I got home I sent an email to everyone that was for the litter. Kay-bless you for calling me and sharing my grief with me while I suffered. I was angry, depressed, and just not understanding what just happened to me. I think this explains a lot of the mystery deaths people have told me about and illnesses in puppies that have no causes, and the vet also confirmed that some new pines now cause a type of disease. a coughing disease…lepto? not sure…its a blur to me right now.
The results came back yesterday from the state. His lungs were full of lesions caused by the saw dust particles from the pine shavings that I used as bedding from age of 6 weeks on. He was the largest puppy at 17 pounds at 8 weeks and took in more dust then the others. He had is travel into his blood stream thru is lungs and cause damage to not only his lungs but blockage to his heart and a small area of his brain. I read the results and had closure in my heart and more tears shared with my family. I have 4 beautiful babies and 4 new families to work with for the future. My son took pictures of my boy before he passed that day playing…I will keep them forever to remind me. Thank you for letting me share this….
but NEVER again…NEVER.
Additional reading about this issue: http://www.afrma.org/rminfo2a.htm
Vom Drakkenfels would like to thank BreedersUSA for choosing us as their March, 2006 and Feb 2009+2012 Breeder of the Month. Read more about it here: