Welcome to

Vom Drakkenfels




Rottweilers


of Polk City, Florida.
Welcome to Vom Drakkenfels  Rottweilers of Polk City, Florida. My name is Kimberly Cardona and I have been a Rottweiler Breeder  and an All breed Show Trainer for over 30 years and now an AKC Judge. I am vice president of the American Rottweiler Club (ARC), Showchair and BOD for Lakeland/Winter Haven Kennel Club (LWKC) and a past member of Allgemeiner Deutscher Rottweiler Klub (ADRK – Germany). This site is dedicated to sharing with you the knowledge that has been gained and useful links to help you learn more about the Rottweiler breed. Vom Drakkenfels (Dragon Mountain) is a 5 1/2 acre playground for my Rottweilers in the middle of the Florida green belt, centralized between Orlando and Tampa, just a few minutes from Lakeland Florida. Dogs from my breedings are AKC Registered, OFA Certified and/or HD/ED rated, CERF, Cardio and JLPP checked.  Puppies are sold with contractual agreements, microchipped, health certified by state law with continuous breeder support over the years.  My dogs and I travel and learn together the many sports and activities for the Rottweiler breed worldwide, including shows with the American Kennel Club (AKC), Canadian Kennel Club (CKC), German Style Shows with the URKA, USRC, ARV, AIRK, IABCA-UCI International, FCI International, ADRK- Germany and Specialty Shows such as Medallion Rottweiler Club, Colonial Rottweiler Club, and the American Rottweiler Club.  My Dragons and I hope that your visit with us will be a good one that you will share with others and please feel free to stop in, Email us and ask questions or check for updates anytime. Thanks for visiting us and enjoy the site.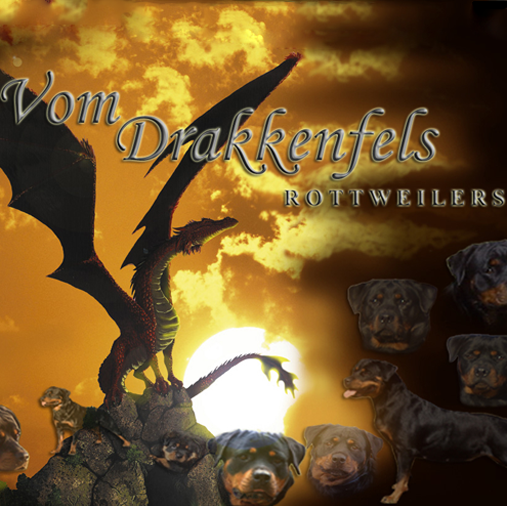 Responsible breeders are individuals who have focused their efforts on one or a select few breeds and through breeding, historical research and ongoing study, mentoring relationships, club memberships, showing, raising and training of these breeds have become experts in the breed's health, heritable conditions, temperament and behavior. Responsible breeders are well suited to educate and screen potential buyers/adopters and provide follow-up support after purchase or adoption. Responsible breeders take lifetime responsibility for the animals they have bred.
Please Call us at (407)460-0089 for my information about our upcoming breeding program and available Youth and Adult dogs. If we do not have anything, we will help you locate dogs from other Breeders or Rescue.
Thank you for your interest in vom Drakkenfels Rottweilers!!
he years go so very fast and before you know it that romping pup is old and grey muzzled and they have sat by our sides while we read, watch TV, and work on our computers. Every so often they come and lay their heads in our laps, toss our elbow with their muzzle or gaze into our eyes and wait for us to notice them. Take a moment now to commune.
I am your dog, and I have a little something I'd like to whisper in your ear. I know that you humans lead busy lives. Some have to work, some have children to raise. It always seems like you are running here and running there, often much too fast, often never noticing the truly grand things in life.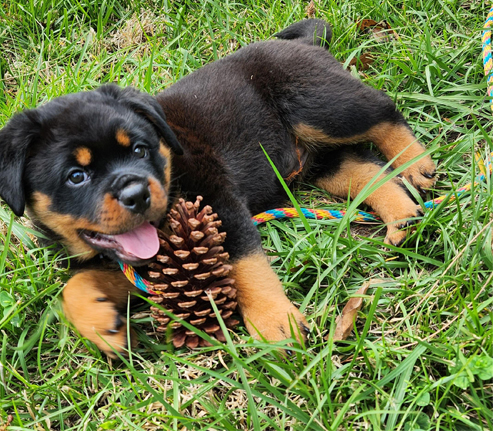 Vom Drakkenfels would like to thank BreedersUSA for choosing us as their March, 2006 and Feb 2009+2012 Breeder of the Month. Read more about it here: